NACC Board Certification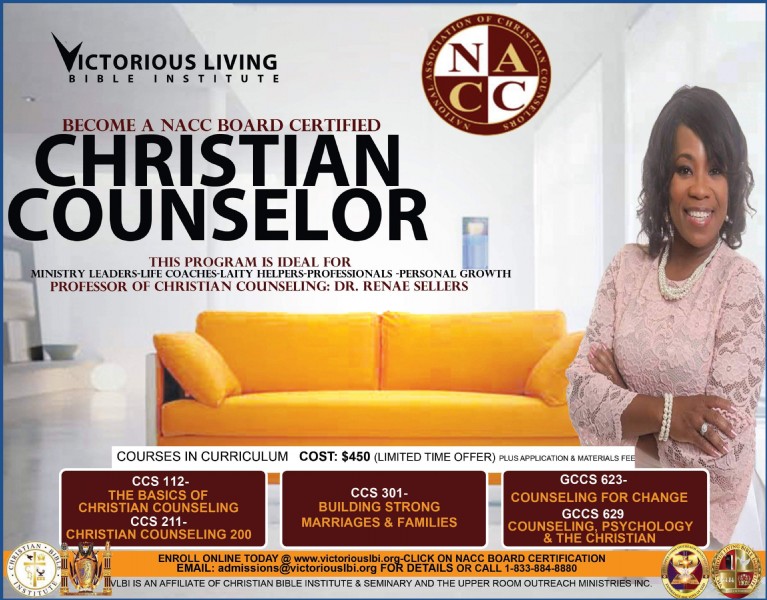 About the National Association of Christian Counselors:
Victorious Living Bible Institute is a Certified Training Center for the National Association of Christian Counselors, www.nacconline.org, based in Houston, Texas. The NACC believes that in order for the non-Christian community to turn to the church for help, Christian workers must have professional credentials, thus providing an opportunity to share our faith and lead them to salvation.
The National Association of Christian Counselors is a Christian ministry established in 2008 to train Biblical counselors and teachers to assist local churches and to help meet related needs. Our purpose is to bridge the gap between faith and life so that as the individual's relationship with God grows, they begin to live for God's glory. As change takes place, they experience His peace and joy.
The main purpose of NACC is to provide adequate training for local Pastors and Christians who feel the call of God to counsel. Once trained, counselors are provided with credentials through the National Association of Christian Counselors. Our goal is to offer counseling to all persons in need of help and training for those who desire to help others. The student will receive the ability to understand themselves, their loved ones, friends, and co-workers. Our training will also provide the student with the essential experiential learning necessary for working in the field of Christian counseling.
NACC is a Christian service organization committed to the Lord Jesus Christ and which believes that unless counseling is founded upon and directed by the Word of God, it is in vain. We look forward to partnering with you on your journey to becoming a counselor!" (www.nacconline.org)
Online Board-Certified Christian Counseling Program:
The National Association of Christian Counselors offers quality training in a distance learning format that allows you to complete your training on your own time–in your home or office. This format has been designed to fit into your busy schedule. You determine your own class schedule and decide when and how you will study.
Complete the following five courses to become an NACC Board Certified Christian Counselor. After completing the formal admission process for a degree program, you may also transfer credits to one of our undergraduate degree programs at Victorious Living Bible Institute (VLBI). Complete the submission form below to enroll.
| | | |
| --- | --- | --- |
| CCS112 | The Basics of Christian Counseling | This course introduces the student to the science of counseling and therapy and to identify certain methods of counseling. |
| CCS211 | Christian Counseling 200 | This course introduces the Bible as the most valuable tool that can be used in Counseling. Suggested text book – Christian Counseling – Gary R. Collins |
| CCS301 | Building Strong Marriages and Families | A study of the importance of communication and the periphery things that, when lacking, tend to destroy a marriage. |
| GCCS623 | Counseling for Change | Covers a wide spectrum of counseling issues with avenues to bring about change in the counselee. |
| GCCS629 | Counseling, Psychology and the Christian | This course studies the composite of the Christian with emphasis on the contrast between his mind, will, emotions, and human spirit. |
Registration Fee: $50.00
Tuition Cost: $450.00 (Limited Time Offer)
Annual Membership Fee: $50.00
Program Total: 30 credit hours
Cost of Materials: $300.00
Students who complete this program will receive 30 credit hours that may be applied toward any undergraduate degree from Victorious Living Bible Institute.
NACC Certification is NOT to be confused with state licensing. Most states have laws governing the practice of general counseling. These laws vary from state to state.
The purpose of state regulatory laws is to protect the public and ensure professionalism within the counseling profession. NACC strives to attain the same goals, and more.
As Christians, we know that counseling with the Word of God is the only answer for a dying world. Therefore, we must purpose to operate within the legal guidelines set
forth by state regulations.
The state recognizes that counseling is one of the responsibilities of the local church. For this reason, the state does not interfere with the ministry of counseling, as long as
counseling is provided under the following conditions:
1. That the counseling service is provided through a legally organized/operated local church or a nationally recognized denomination.
2. That the counselor is trained and commissioned by the legally recognized organization.
Course Facilitator: Dr. Renae Sellers is a Psychology major with a specialization in Christiian Counseling. She is a Certified Mental Health First Aid Instructor, a Certified SYMBIS Facilitator, a Board Certified Pastoral Counselor and a Board Certified Life Coach.
READY TO BEGIN HELPING OTHERS? Click on the following link and download the NACC Application for Christian Counseling and submit the form below: